Mówiłam, mówiłam, w końcu zrobiłam i się dzielę przepisem :) Bułki są świetne. Lekko słodkawe, miękkie i wprost idealne do hamburgerów. Już nie mogę się doczekać, aby zrobić je jeszcze raz!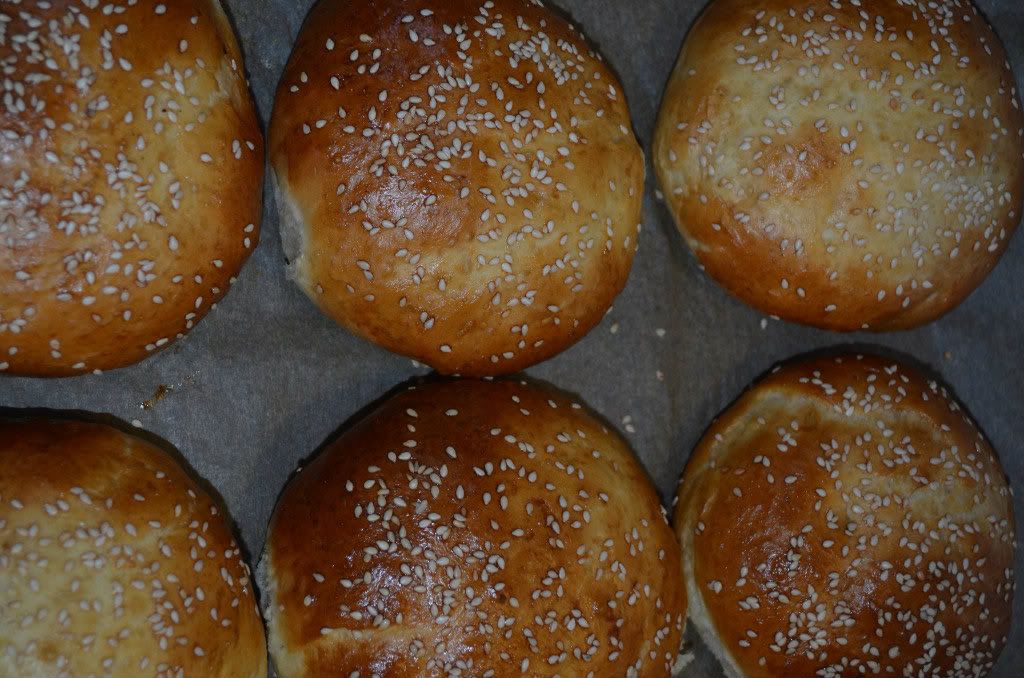 I've been talking about it, but finally I've made it and now I'm sharing with you :) These buns are simply great! A little bit sweet and soft, perfect for hamburgers. Really, I just can't wait to make these again!
Składniki (na 12 sztuk)
2 łyżki suszonych drożdży instant

(około 18 g) lub 50 g świeżych drożdży


1 szklanka

plus 2 łyżki ciepłej wody

1/3 szklanki oleju roślinnego

1/4 szklanki cukru

1 jajko

1 łyżeczka soli

3 do 3-1/2 szklanek mąki
W dużej misce rozpuść drożdże w wodzie. Dodaj cukier i olej; niech postoją razem 5 min. Dodaj jajko, sól i mąkę, aby utworzyć miękkie ciasto.
Przełóż ciasto na posypaną mąką powierzchnię; wyrabiaj ok. 3-5 min aż ciasto będzie elastyczne i miękkie. Nie pozwól, aby na tym etapie urosło. Podziel ciasto na 12 części i uformuj z nich kulki. Rozłóż na blaszce wyłożonej papierem, zachowując odstęp.
Przykryj i pozwól bułkom rosnąć przez 10 min. Bułki posmaruj ubitym jajkiem i posyp sezamem-opcjonalnie. Piecz w 220
°C
przez 8-12 minut lub do momentu, gdy zbrązowieją. Ściągnij bułki z blaszki i pozwól im ostygnąć.
Ingredients (yield 12 buns)
2 tablespoons

active dry yeast (about 18 grams) or 50 grams fresh yeast

1 cup

plus 2 tablespoons warm water

1/3 cup

vegetable oil

1/4 cup

sugar

1 egg

1 teaspoon

salt

3 to 3-1/2 cups

all-purpose flour
In a large bowl, dissolve yeast in warm water. Add oil and sugar; let stand for 5 minutes. Add the egg, salt and enough flour to form a soft dough.
Turn onto a floured surface; knead until smooth and elastic, about 3-5 minutes. Do not let rise. Divide into 12 pieces; shape each into a ball. Place 3 in. apart on greased baking sheets.
Cover and let rest for 10 minutes. Brush with beaten egg and spri

nkle with sesame seeds- optional.

Bake at 425° F/ 220
°C
for 8-12 minutes or until golden brown. Remove from pans to wire racks to cool.