Witajcie! W końcu dzielę się z Wami przepisem na przepyszną i zdrową przekąskę. Jak wcześniej pisałam, zmieniałam trochę swoja dietę, ale to nie oznacz, ze porzuciłam wszystkie słodkości. Zdecydowałam się połączyć jabłka i banany- moje ulubione owoce, z owsianką-obowiązkowym elementem mojego śniadania. Tak naprawdę możecie użyć jakichkolwiek składników, jabłka i banany to tylko moja sugestia :)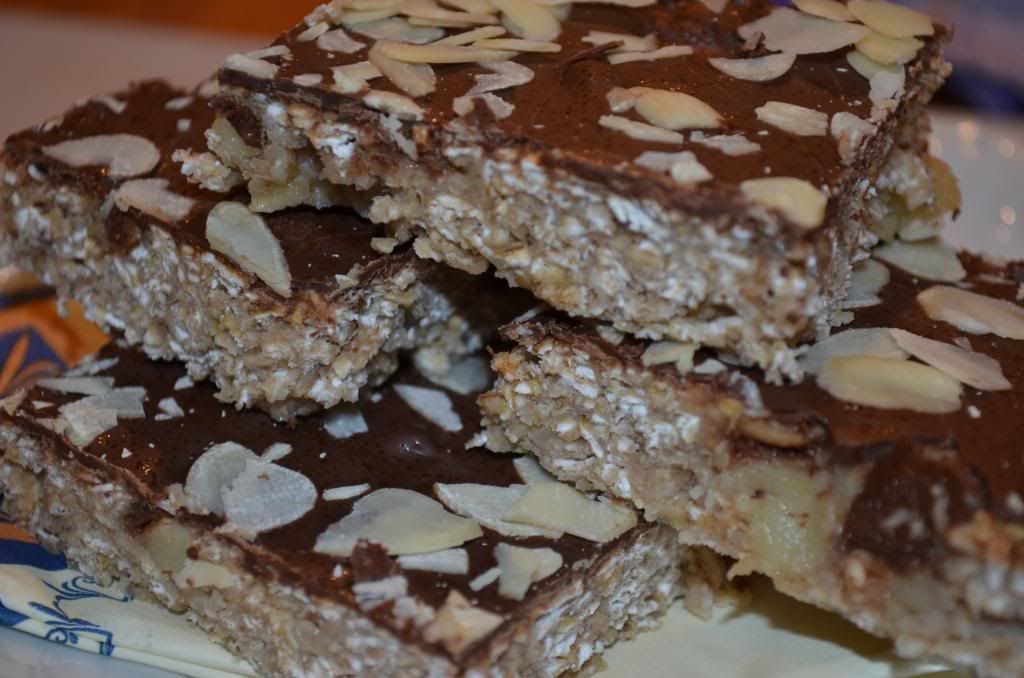 Hello! Today I'm sharing a simple recipe for super delicious healthy snack. You know that I've change my diet lately, but it doesn't mean that I rejected all things sweet and delicious. I've decided to mix together apples and bananas because they are one of my favourite fruits with my latest breakfast must-have, oatmeal. In fact, you can use whatever ingredients you like, banana and apple combination is just my suggestion :)
Składniki:
3 szklanki płatków owsianych
2 banany
2 duże jabłka
3 łyżeczki miodu
2 tabliczki czekolady (ja użyłam mleczną i gorzką)
płatki migdałowe, do posypania (opcjonalnie)
Najpierw obieramy owoce. Banany i jedno jabłko miksujemy na gładką papkę. Pozostałe jabłko kroimy na małe kawałki. W dużej misce mieszamy płatki owsiane, pokrojone jabłko, zmiksowane owoce i miód. Całość przekładamy na małą foremkę do pieczenia (moja miała 25 x 25 cm). Masę mocno dociskamy łyżką i wyrównujemy powierzchnię. Pieczemy w 180 stopniach C przez ok. 12-15 minut lub do czasu, gdy batony lekko się zarumienią. Po upieczeniu wyciągamy z piekarnika i odstawiamy do ostygnięcia
Czekoladę łamiemy na małe kawałki i rozpuszczamy w mikrofali lub w małym garnku, mieszamy, aby uzyskać gładką konsystencję. Czekoladę rozprowadzamy na chłodnych batonach, posypujemy płatkami migdałowymi i czekamy aż czekolada zastygnie. Następnie kroimy.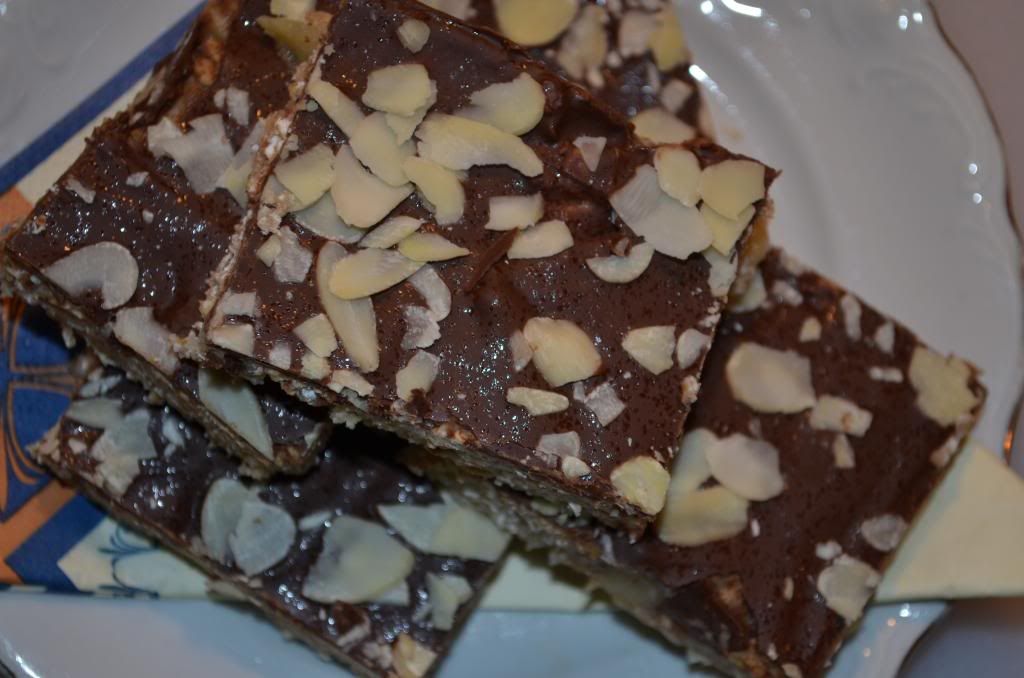 Ingredients:
3 cups oatmeal
2 bananas
2 big apples
3 teaspoons honey
2 bars of chocolate (I used dark and milk chocolate)
almond flakes (optional)
First of all, blend the bananas and one apple in a blender. Chop the other apple into small chunks.
In a large bowl, mix together blended fruits, chopped apple, honey and oatmeal. Press the mixture into a small baking pan ( mine was 25 x 25 cm). Bake at 180 degrees C for 12-15 minutes or until golden brown. Cool on a wire rack.
In a microwave or in a small pot, melt chocolate and stir until smooth. Spread over cooled bars. Sprinkle with the almond flakes. Chill until set. Cut into bars.
xoxo,
Agnieszka