Szczególnie ostatnio, gdy w domu sami pieczemy chleb mam pod dostatkiem różnego rodzaju otrębów. A gdy trzeba coś upiec to czemu nie zrobić tego na zdrowo? Na pewno takie muffiny będą fajną odmianą, a poza tym, ja uwielbiam otręby!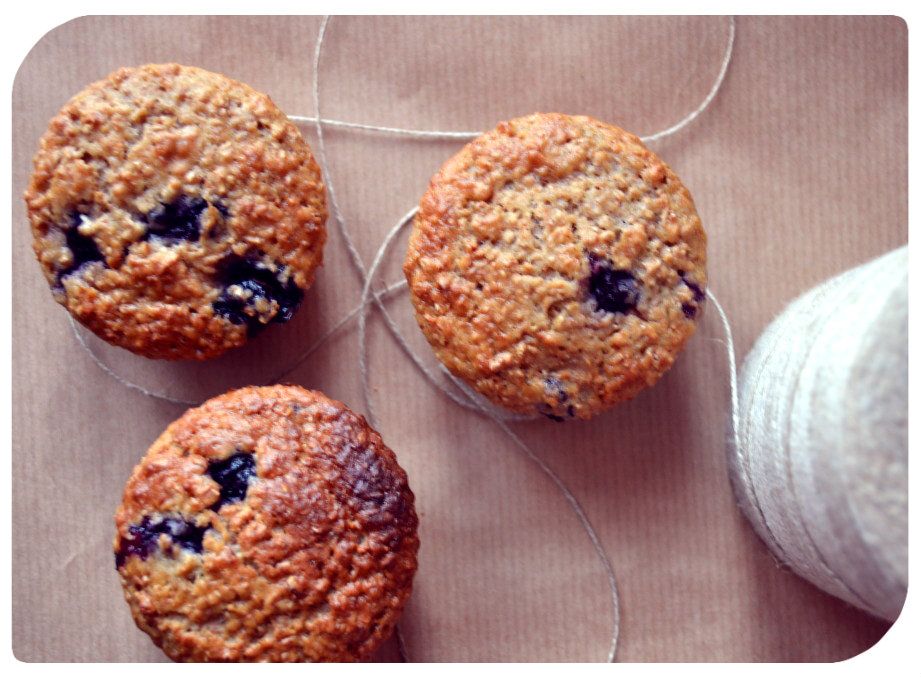 Especially lately when we have been baking our own bread we have a plentiful of different kinds of oats. So when you have to bake muffins why not turn them into something healthy? These muffins will be a nice change for sure, and besides, I love bran!
Składniki (na 12-15 sztuk):
1 1/4 szklanki mąki razowej
1 1/4 szklanki otrębów (ja użyłam otrębów owsianych)
1 łyżeczki proszku do pieczenia
1/2 łyżeczki sody oczyszczonej
1/4 łyżeczki soli
1/2 łyżeczki cynamonu
1 szklanka musu jabłkowego, niesłodzonego (jabłka myjemy, kroimy, wrzucamy do garnka i gotujemy aż się całkiem rozpadną i wyparuje z nich woda)
1/2szklanki maślanki
1/2 szklanki cukru brązowego, upchanego (ja użyłam zwykłego)
2 łyżki oleju rzepakowego
1 duże jajko, lekko rozmącone
3/4 szklanki borówek (świeżych lub mrożonych)
Rozgrzać piekarnik do 180 stopni C. Wyłożyć foremkę do muffinów papierowymi papilotkami lub natłuścić i wysypać mąką. W dużej misce wymieszać suche składniki: mąkę, otręby, sól, proszek do pieczenia, sodę i cynamon. W mniejszej misce połączyć mus jabłkowy, maślankę, cukier, jajko i olej. Wszystko wymieszać, dodać do suchych składników i połączyć. Na koniec wmieszać owoce. Nakładać ciasto do 2/3 wysokości foremki i piec przez 16-18 minut.
Ingredients (yields 12-15 muffins):
1 1/4 cups whole wheat flour
1 1/4 cups bran
1 tsp baking powder
1/2 tsp baking soda
1/4 tsp salt
1/2 tsp cinnamon
1 cup unsweetened applesauce
1/2 cup low-fat buttermilk
1/2 cup firmly packed brown sugar
2 tbsp canola oil (I used the almond oil I had on hand)
1 large egg, lightly beaten
3/4 cup blueberries (fresh or frozen)
Preheat oven to 375 degrees. Line a 12 cup muffin tin with paper cases or spray with nonstick cooking spray and flour it. In a large bowl combine flour, oats, baking powder, baking soda, salt and cinnamon. In a medium bowl combine applesauce, buttermilk, sugar, oil and egg. Make a well in dry ingredients and add applesauce mixture. Stir until just moist. Fold in blueberries. Fill muffin cups 2/3 full. Bake for 16-18 minutes.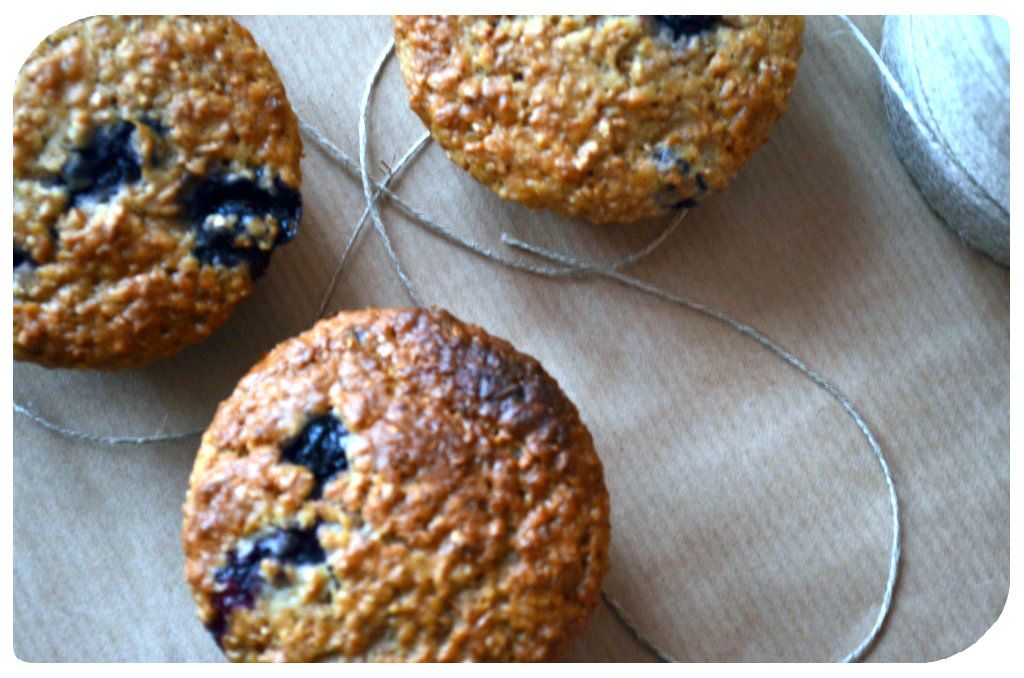 xoxo,
Agnieszka