Muszę to powiedzieć: jestem fanką curry. Nie wiedziałam tego dopóki nie spróbowałam wieprzowiny curry, a teraz tego pysznego kurczaka curry. Wszystko w nim uwielbiam: kolor, zapach, smak. Jest po prostu doskonały! :) Teraz myślę tylko o przygotowaniu kolejnego dania: warzyw z curry i ryżem. Pychota!

I have to say this: I'm a curry fan. I hadn't known that until I tried pork curry and this delicious chicken curry. I love the colour, the smell, the flavour. It's just perfect! :) Now, I'm thinking about preparing some vegetables with curry and rice. Yummy!
1 podwójny filet z kurczaka

1 cebula

1 puszka pomidorów

2 pełne łyżki kwaśnej śmietany 18%

1 płaska łyżka curry

1/2 szklanki wody

sól, pieprz, oliwa/olej

ryż do podania (ja użyłam brązowego naturalnego ryżu)
Kurczaka pokroić w kostkę, przyprawić solą, pieprzem i skropić oliwą. Podsmażyć na patelni do lekkiego zrumienienia, zdjąć na talerz. Na tej samej patelni na oleju zeszklić cebulę pokrojoną w piórka. Do cebuli dodać curry, wymieszać i chwilę smażyć na niewielkim ogniu. Dodać przygotowanego wcześniej kurczaka, wymieszać a następnie zalać całość pomidorami z puszki i wodą. Jeśli pomidory nie są krojone można je nieco rozdrobnić drewnianą łyżką. Trzymać na niewielkim ogniu około 15-20 minut, od czasu do czasu mieszając. W miseczce umieścić śmietanę i stopniowo dodawać do niej po łyżeczce sosu za każdym razem mieszając, aż do momentu gdy śmietana będzie ciepła. Śmietanową mieszankę wlać do sosu, dobrze wymieszać, chwilę pogotować i wyłączyć palnik. Doprawić do smaku. Podawać z ryżem, najlepiej brązowym. Smacznego!
Ingredients:
2 chicken breasts

1 onion

1 canned tomatoes (chopped)

2-3 tablespoons of sour cream (18%)

1 tablespoon curry powder

1/2 cup water

salt, pepper, oil

rice (brown) for serving
Dice the chicken meat, season it with salt and pepper, add a bit of oil. Fry on the pan until slightly golden and put away on the plate. Then cut the onion in half, slice it and cook until soft (not golden) on the pan that was used to fry the chicken. Add curry powder, mix with onion and fry few more minutes. Add chicken, water and tomatoes and cook until the sauce is a bit thicker. Put sour cream in a small bowl, add tablespoon of the tomato sauce and stir, add again a bit of the sauce, stir and repeat until the cream is warm. Than pour the cream mixture into the pan, bring it to boil and turn the heat off. Add salt and pepper if needed. Serve with rice.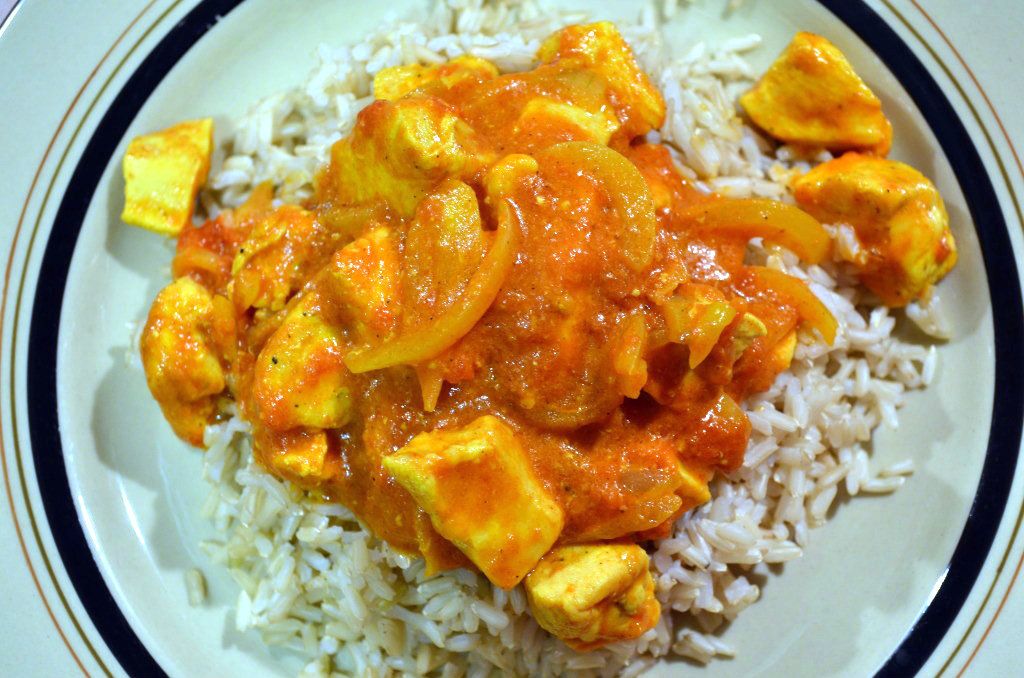 xoxo,
Agnieszka