Tyle razy widziałam przepisy na muffiny z bananami i czekoladą, ale jakoś nigdy nie skusiłam się na nie. Teraz jakoś tak pomyślałam, że zjadłabym coś bananowego, słodkiego, miękkiego i wilgotnego. Wpisałam nazwę w wyszukiwarkę i od razu dostałam masę wyników. Gdy tylko zobaczyłam, że Nigella ma je na swoje stronie, to nie wahałam się i od razu skorzystałam. Przepisy Nigelli są zawsze cudowne, w końcu to Nigella, mam rację? ;) Muffiny są przepyszne i już teraz nie mogę się doczekać, aby zrobić je jeszcze raz!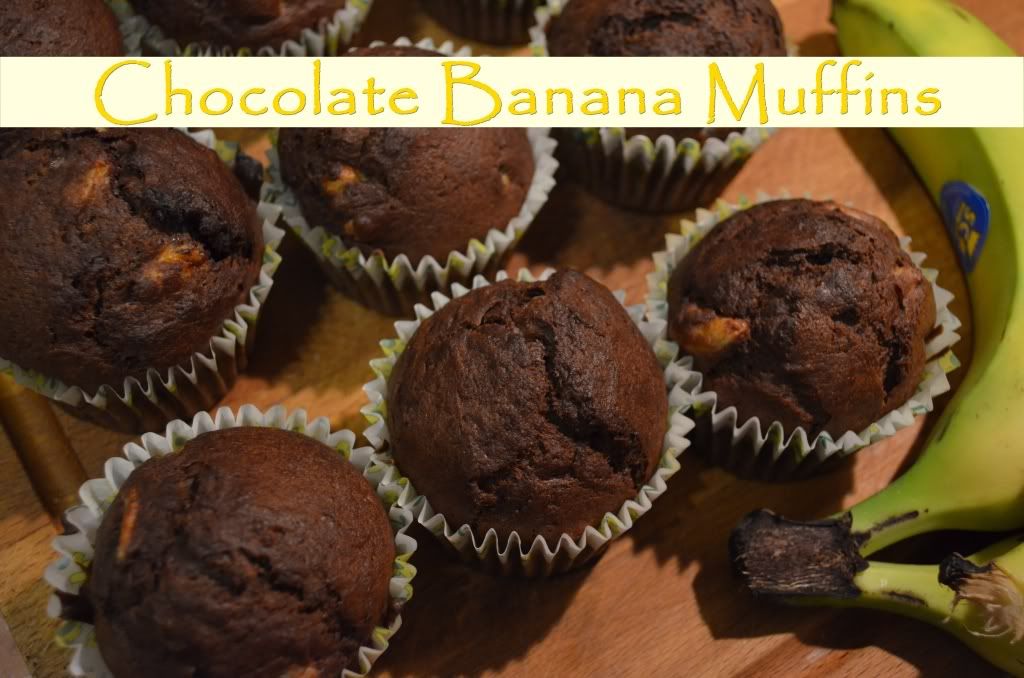 I've seen banana and chocolate muffins so so many times, but I just never got for them. Now, I just thought about something banana-like, sweet, soft and moist. Simply, I wrote the recipe's name in the browser and I got a massive number of results. But when I saw Nigella's recipe, I knew it was the one. Her recipes are just lovely, after all it is Nigella, right? ;) And muffins are so delicious that I can't wait to make them again!
Przepis znaleziony na
stronie Nigelli
./
Recipe found on Nigella's site.
Składniki:
(na 12 sztuk)
3 dojrzałe lub bardzo dojrzałe banany

125 ml oleju roślinnego

2 jajka

100 g jasnego brązowego cukru

225 g mąki pszennej

3 łyżki kakao gorzkiego, przesianego i dobrej jakości

1 łyżeczka sody oczyszczonej
Rozgrzej piekarnik do 200°C/ 390°F i wyłóż blaszkę do muffinek foremkami. Rozgnieć banany ręka lub za pomocą miksera. Ciągle ubijając, dodaj jajka, olej i cukier. Wymieszaj razem kakao, mąkę i sodę, i dodaj do masy bananowej. Przełóż ciasto do foremek. Piecz przez 15-20 min. Do tego czasu muffiny powinny zrobić się okrągłe, brązowe i wystawać ze swoich foremek. Pozwól im lekko ostygnąć zanim wyjmiesz je z blaszki.
Ingredients:
(makes 12 muffins)
3 very ripe or overripe bananas
125 ml vegetable oil
2 eggs
100 g soft light brown sugar
225 g plain flour
3 tablespoons best-quality cocoa powder, sifted
1 teaspoon baking soda
Preheat the oven to 200°C/ 390°F and line a muffin tin with papers. Mash the bananas by hand or with a freestanding mixer.Still beating and mashing, add the oil followed by the eggs and sugar. Mix the flour, cocoa powder and baking soda together and add this mixture, beating gently, to the banana mixture, then spoon it into the prepared papers. Bake in the preheated oven for 15–20 minutes, by which time the muffins should be dark, rounded and peeking out of their cases. Allow to cool slightly in their tin before removing to a wire rack.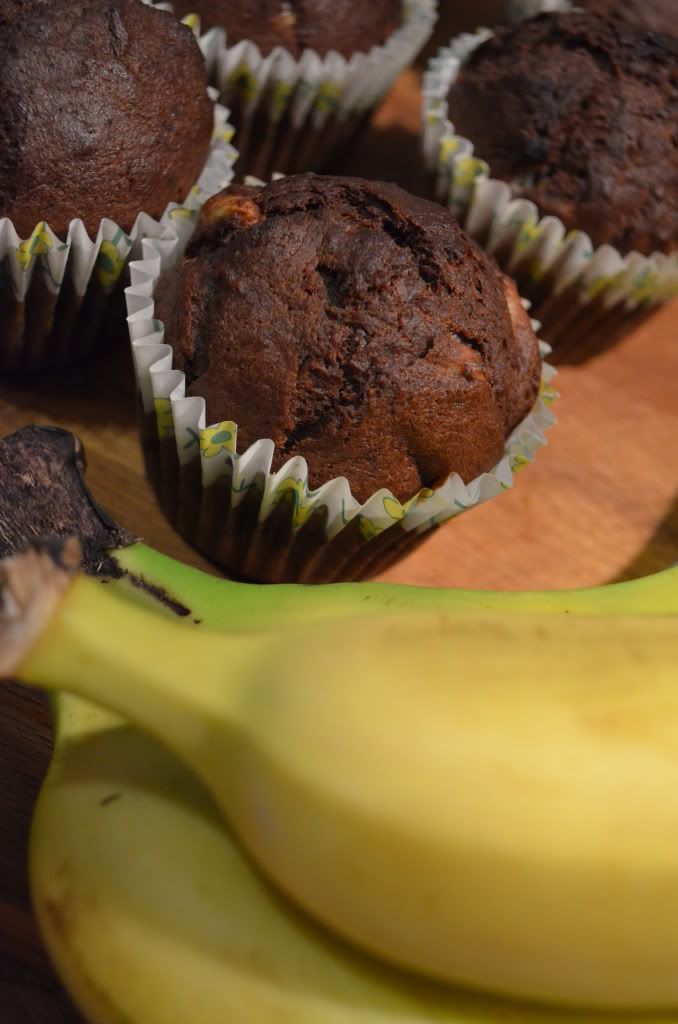 xoxo,