W końcu! Możemy rozpocząć truskawkowy sezon!
Lubię truskawki, nie uwielbiam, ale lubię. Dziś wykorzystałam resztkę truskawek, aby zrobić truskawkowe babeczki z kremem maślano-truskawkowym. Całkiem sporo nazbierało się tutaj 'truskawek' XD, ale nic na to nie poradzę. Trus...Ok, bez dalszych wstępów: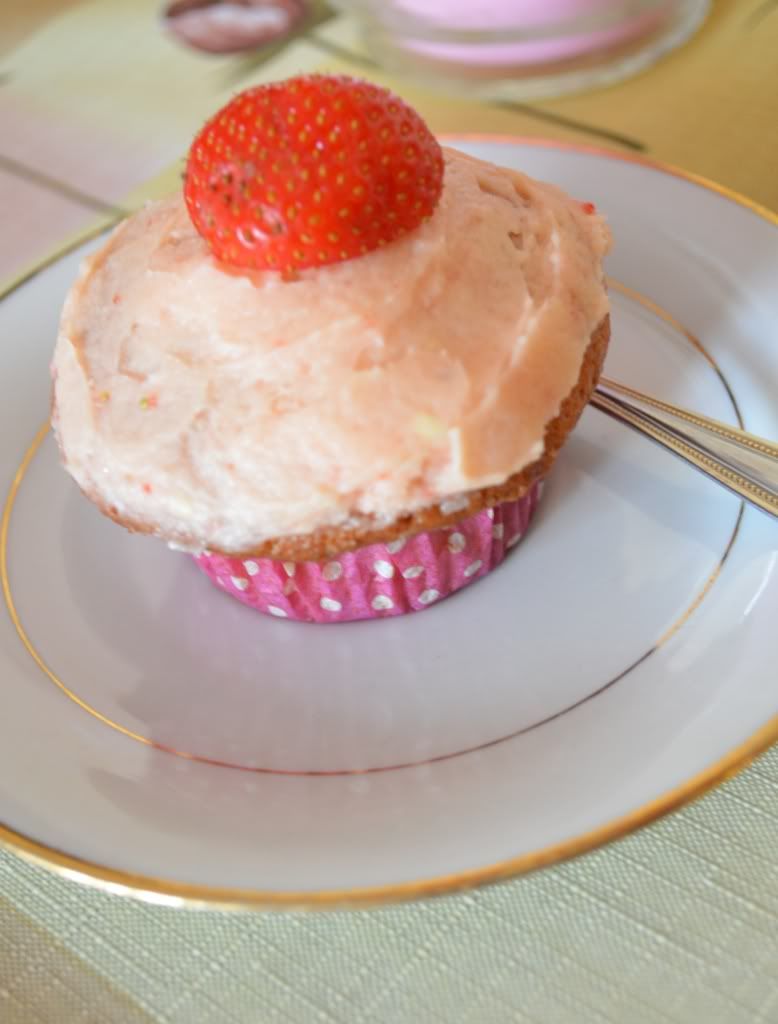 Finally, we can begin the strawberry season!
I like strawberries, not love, but like. Today, I used some of the remaining strawberries to make strawberry cupcakes with strawberry buttercream icing. Quite a lot of 'strawberries' here XD Sorry, but I can't help it. Straw... Ok. Without further ado:
3/4

szklanki świeżych truskawek, pokrojonych na połówki

1 1/2

szklanki mąki

1

łyżeczka proszku do pieczenia

1/4

łyżeczki soli

1/4

szklanki mleka

100 g

miękkiego masła, niesolonego

3/4

szklanki cukru

1

duże jajko

2

duże białka

1 łyżeczka ekstraktu waniliowego (opcjonalnie)
Krem:
3

łyżki truskawkowego puree

200 g

miękkiego masła, niesolonego

3 1/2

szklanki cukru pudru

( Ja zużyłam 2 1/2 szklanki )

1/2

łyżeczki ekstraktu waniliowego

szczypta soli
Rozgrzej piekarnik do 180 stopni c. Przygotuj formę i 12 papilotek, odłóż na bok. E średniej misce połącz mąkę, sól i proszek do pieczenia, odłóż na bok.W blenderze zmiksuj truskawki. W drugiej misce utrzyj masło na jasną, puszysta masę. Stopniowo dodawaj cukier. Zmniejsz prędkość i dodawaj powoli jajka. Dodaj teraz ekstrakt, jeśli go używasz. Wymieszaj mleko z truskawkowym puree (ALE zostawiając 3 łyżki do kremu). Dodawaj mleko i mąkę do masła na przemian i dobrze miksuj. Przełóż ciasto do foremek i piecz przez 20-25 min lub do momentu gdy lekko zbrązowieją. Wyciągnij babeczki i przestudź je przed ozdabianiem kremem.
Aby zrobić krem:
Użyj miksera, aby zmiksować masło na puszystą masę. Zmniejsz prędkość na minimum i dodawaj stopniowo cukier puder. Ja użyłam znacznie mniej niż w oryginalnym przepisie. Dodaj ekstrakt waniliowy i truskawkowe puree, dobrze zmiksuj. Jeśli krem jest za rzadki, dodaj cukru pudru, jeśli zbyt gęsty, odrobinę mleka. Za pomocą noża rozsmaruj krem na babeczkach i ozdób kawałkami truskawek.
The cupcakes:
3/4

cup

fresh strawberries, sliced in half

1 1/2

cups

all-purpose flour

1

teaspoon

baking powder

1/4

teaspoon

salt

1/4

cup

milk

100 g

unsalted butte, softened

3/4

cup

sugar

1

large

egg

2

large

egg whites

1

teaspoon

vanilla extract (optional)
The icing:
3

tablespoons

fresh strawberries, pureed

200 g

unsalted butter, softened

3 1/2

cups

icing sugar ( I used 2 1/2 cups)

1/2

teaspoon

vanilla extract

a pinch of

salt
Preheat oven to 350 Degrees F/180 degrees C. Using cupcake liners, place 12 liners in a muffin pan and set to the side. In a medium bowl, combine flour, baking powder and salt and set aside. In a food processor or blender add strawberries and process until pureed and set aside. Using a electric mixer with bowl, beat butter on medium high speed until lightly fluffy. Gradually add sugar and continue to mix until well blended. Reduce speed to low and slowly add one egg and egg whites and mix until lightly blended. Add vanilla extract if using. Mix together milk and strawberry puree (leaving 3 tablespoons for the icing). Alternate flour and milk mixture to mixer slowly ending with flour. Scrap down sides of bowl and continue to blend well. Add batter to prepared muffin cups. Bake for 20 to 25 minutes, or until lightly browned.Cool cupcakes completely on a wire rack before adding the icing.
To make the icing:
Using a electric mixer with bowl, add butter and salt and blend on medium high until fluffy. Reduce speed to low and add icing sugar gradually and blend well. Add vanilla extract and strawberry puree, blend well. If the icing is to thick add milk, if too runny add more icing sugar. Using a knife, ice the cupcakes and decorate them with strawberries.