Dzisiaj chciałam Wam przedstawić inne możliwości podania pizzy. Bo tak naprawdę najważniejsze jest ciasto, a dodatki można dobierać wedle życzenia. Postanowiłam, że w końcu wypróbuję inne smaki, bo zawsze robię wersję "klasyczną" dla mnie i rodziców (pieczarki, szynka, cebula, papryka, sos, ser) i margheritę dla siostry, a przecież pizza może mieć wiele odsłon. Dlatego nie tylko dodaję inne składniki, ale też formuję w podłużne paski.
Today I want to share with you different possibilities of serving pizza. Usually, I make margherita for my sister and 'classic' version( pepper, onion, ham, cheese, sauce, etc.) for my parents and me. I wanted to try something else, therefore, not only did I use different ingredients than usual but also different shape.
Przepis na ciasto do pizzy znajdziecie
tutaj
.
You can find the recipe for the thin crust pizza dough here.
Pizza na 4 sposoby:/ Pizza 4 ways:
1. Sos pesto + ser feta/ Pesto + feta cheese
Na surowe ciasto nakładamy sos pesto i posypujemy pokruszonym serem feta. Zapiekamy./
Add pesto onto your pizza dough and sprinkle with feta. Bake.
2. Cebularz/ Onion
Cebulę obieramy i kroimy w krążki. Wrzucamy do garnka z oliwą z oliwek, dodajemy odrobinę cukru, soli i pieprzu. Dusimy pod przykryciem aż cebula zmięknie. Uprażoną cebulę wykładamy na surowe ciasto, posypujemy startym serem i zapiekamy./
Slice the onion and put it in a saucepan. Add vegetable oil, salt, pepper and a bit of sugar. Cook until the onion has softened. Place the onion on the pizza dough, add grated cheese and bake.
3. Cukinia + czosnek + tymianek/ Zucchini + garlic + thyme
Cukinię myjemy, obieramy, wydrążamy, jeśli jest taka potrzeba i kroimy na cienkie i długie paski. Patelnię rozgrzewamy, wlewamy oliwę z oliwek i dodajemy cukinię. Potem doprawiamy tymiankiem, solą i pieprzem. Chwilkę smażymy. Całość przekładamy na surowe ciasto, można posypać serem, a potem zapiekamy./
Fry thin zucchini slices with olive oil, sea salt, thyme and sliced garlic on frying pan. Place the ingredients on pizza dough and sprinkle with crumbs of feta. Bake.
4. Pomidory + zioła + oliwa z oliwek/ Tomatoes + herbs + olive oil
Na surowe ciasto układamy świeże pomidory w plasterkach, posypujemy ulubionymi ziołami, przyprawiamy solą i pieprzem. Kropimy oliwą z oliwek i posypujemy serem ( żółty, feta, mozzarella, etc.)./
Pizza dough+fresh herbs and slices of tomato. Pour a bit of olive oil on tomatoes. Sprinkle with grated cheese/mozzarella/feta, etc.
Bake.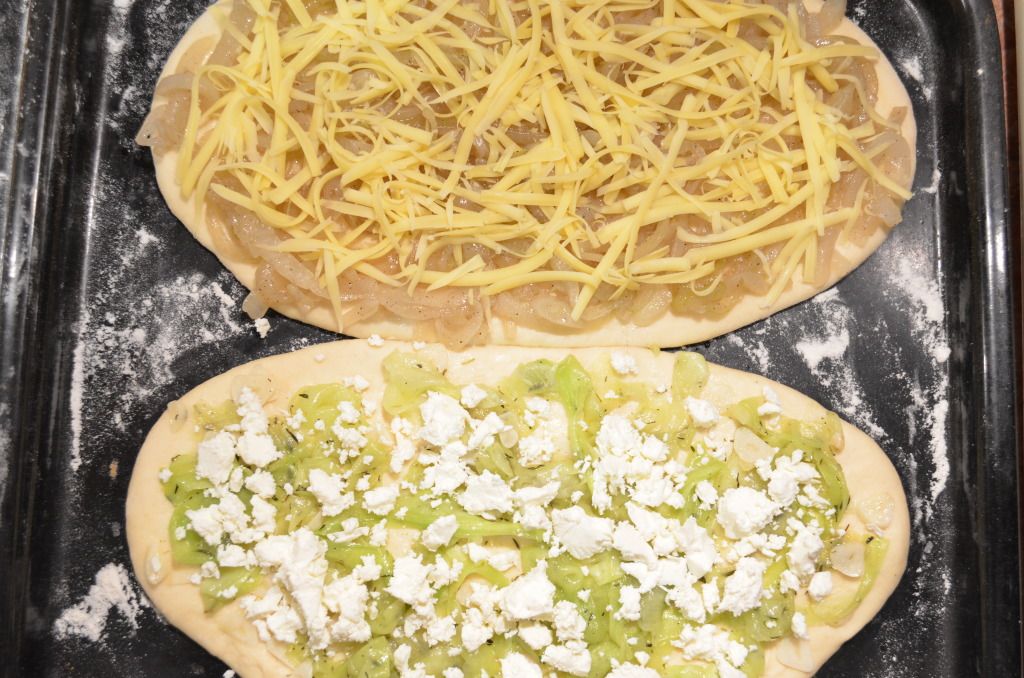 xoxo,
Agnieszka