Dzisiaj przychodzę do Was ze smakołykiem, który jest słodki, ale za to zdrowy i beztłuszczowy. Tak, mówię o cieście, które sporządza się bez użycia tłuszczu! Zamiast niego mamy otręby i owoce- jakiekolwiek, mogą być świeże, mrożone, z puszki, sezonowe. Co tylko chcecie. Dodatkowo ciasto jest lekkie i trochę suche, ale przypomina dzięki temu biszkopt. To jak, spróbowalibyście? :)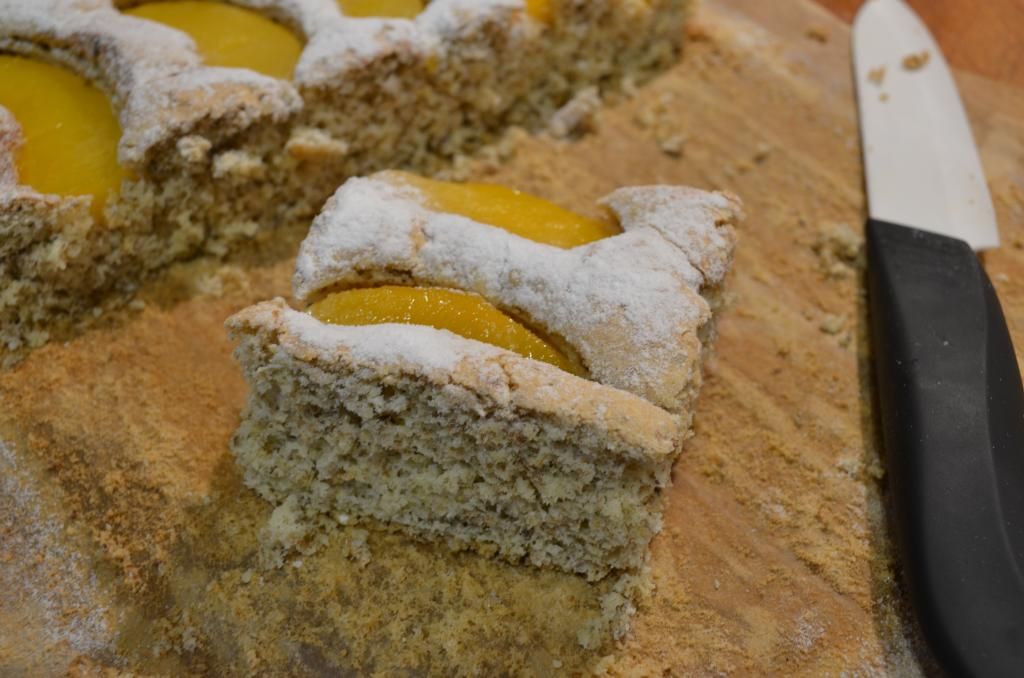 Today I'm giving you something which is sweet, but healthy and fat-free at the same time. Yes, I'm taking about the cake that you can make without using any fat! Instead of this we have gran and fruits- any fruit-frozen, fresh or canned. Whatever you want. In addition, the cake is light and a bit dry and reminds me of a sponge cake. So, would you try it? :)
Źródło przepisu:
Moje Wypieki
.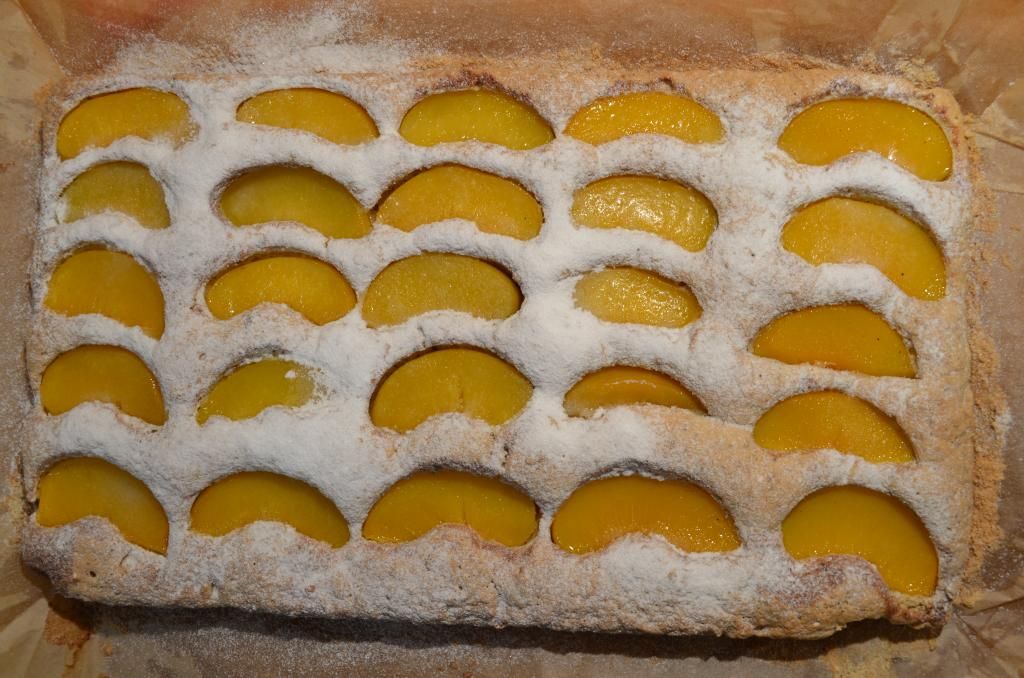 Składniki:
4 duże jajka (osobno białka i żółtka)

3/4 szklanki cukru

1 szklanka mąki pszennej

1 szklanka zarodków pszennych (lub otrębów)

1 czubata łyżeczka proszku do pieczenia

500 g dowolnych owoców (u mnie brzoskwinie z puszki)
Wszystkie składniki powinny być w temperaturze pokojowej.

Białka umieścić w misie miksera i ubić na sztywną pianę. Pod koniec ubijania dodawać partiami cukier, łyżka po łyżce, miksując. Dodać żółtka i zmiksować.

Mąkę i proszek przesiać. Wymieszać z zarodkami (lub otrębami). Dodać do masy jajecznej, wymieszać szpatułką.

Blachę o wymiarach 23 x 34 cm wyłożyć papierem do pieczenia. Na papier wyłożyć surowe ciasto, wyrównać. Na wierzch wyłożyć owoce.
Piec w temperaturze 170ºC przez 35 - 40 minut, do tzw. suchego patyczka.
Ingredients:
4 big eggs (whites and yolks sep

a

r

a

tely)
3/4 cup s

u

gar

1 cup wheat flour

1 cup gran

1 hea

ped teaspoon baking powder

500 g fruits of your choice (I used canned peaches)
All of

ingredients should be at the room temperature

.

Egg whites place in a bowl and

beat until peaks form

. At the end of the beating, add sugar, one teaspoon after another still mixing. Then add yolks and mix it again. Sift flour and baking powder together. Combine with gran and then, with yolk batter using a spatula. Line baking tin with parchment paper and place the batter on it.

Smooth the surface. Add fruits. Bake at 170 degrees C for about 35-40 minutes or until

wooden skewer inserted in the centre of the cake comes out clean.