"Retro cooking"- tak chciałabym nazwać serię postów o daniach z dawnych lat. Już dawno myślałam, żeby wypróbować stare przepisy, posmakować jedzenia spożywanego przez ludzi żyjących w tamtych dekadach. Będzie to na pewno ciekawe doświadczenie, nie tylko kulinarne :) A wracając do tego konkretnego przepisu, danie jest bardzo proste w wykonaniu, ale jako że mieszkamy w Polsce i nie kupimy kremowej zupy z kurczaka w puszce to trzeba niestety samemu wszystko przygotować. Ale najważniejsze to mieć dobre substytuty i reszta pójdzie jak po maśle :)
Już teraz myślę o kolejnym przepisie i chyba zrobię coś na słodko.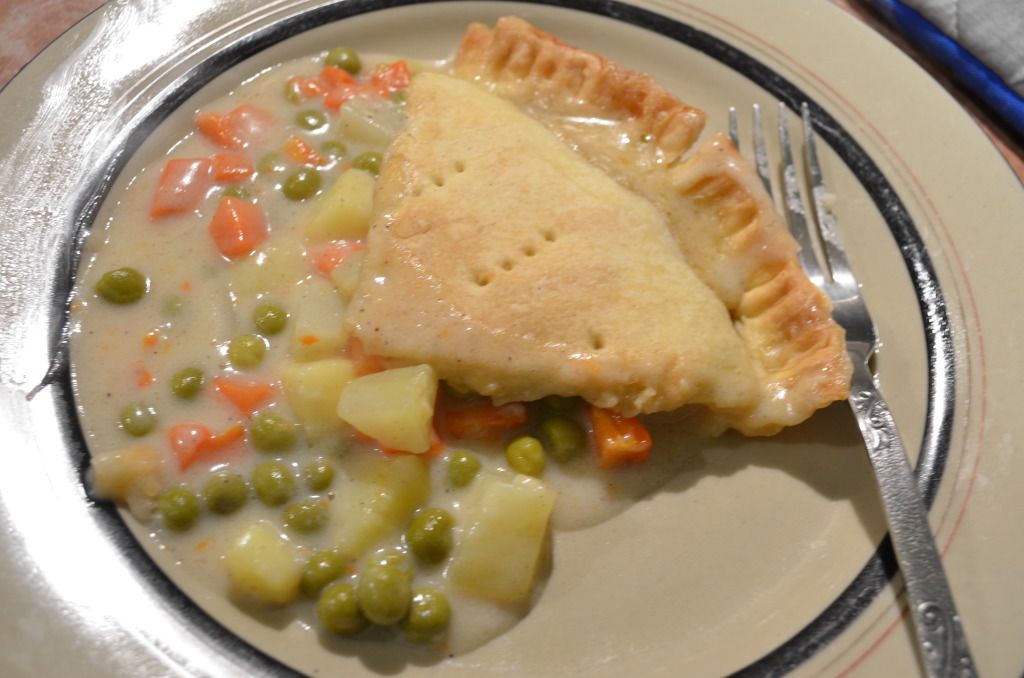 'Retro cooking'- that's how I want to call my newest post series about foods from the old days. I've been thinking about it a lot and I finally got myself together to try out old recipes, taste the dishes eaten by people in bygone decades. It's going to be a very curious experience, not only culinary one, I'm sure of it :) And speaking of this particular recipe- it's very easy to make, but living here, in Poland means, unfortunately, that we don't have such a thing as canned condensed cream of chicken soup. But what a great coincidence that I've found a perfect substitution for this and now with a little help of the recipe you can make it on your own! :)
I've already started to seek another recipe. I'm thinking...something sweet ;)
Przepis
/The recipe via Chronically vintage.
Składniki: (na 5-6 porcji)
2 puszki kremowej zupy drobiowa ( niedostępne w Polsce, poniżej przepis)***
1 1/2 szklanki ziemniaków, pokrojonych w kostkę i ugotowanych
1 szklanka marchewki, ugotowanej i pokrojonej w kostkę
1 szklanka groszku, ugotowanego lub z puszki
1/8 łyżeczki gałki muszkatołowej
1 opakowanie kruchego ciasta- kupnego lub przygotowanego własnoręcznie (przepis)
***Kremowa zupa drobiowa ( równowartość 1 puszki kremowej zupy drobiowej):
1 łyżka mąki
3 łyżki masła
1/2 szklanki bulionu
1/2 szklanki mleka
sól
pieprz
Masło rozpuścić w garnku i dodać mąkę. Mieszać chwilę aż powstanie gładka, wrząca masa. Zestawić z ognia i dodać mleko oraz bulion. Zamieszać i dalej gotować doprowadzając do wrzenia. Zdjąć z ognia. Doprawić pieprzem i solą.***
Piekarnik nagrzać do 230 stopni C. Do kremowej zupy drobiowej dodajemy marchew, ziemniaki i groszek oraz przyprawy (sól, gałka, pieprz). Przekładamy do naczynia żaroodpornego. Na wierzch wykładamy kruche ciasto. Brzegi ciasta dociskamy widelcem do brzegów naczynia. Na koniec robimy kilka otworów widelcem w cieście, aby warzywa mogły odparować wodę. Pieczemy w 230 stopniach C przez 25 min lub gdy wierzch ciasta będzie złocisto-brązowy.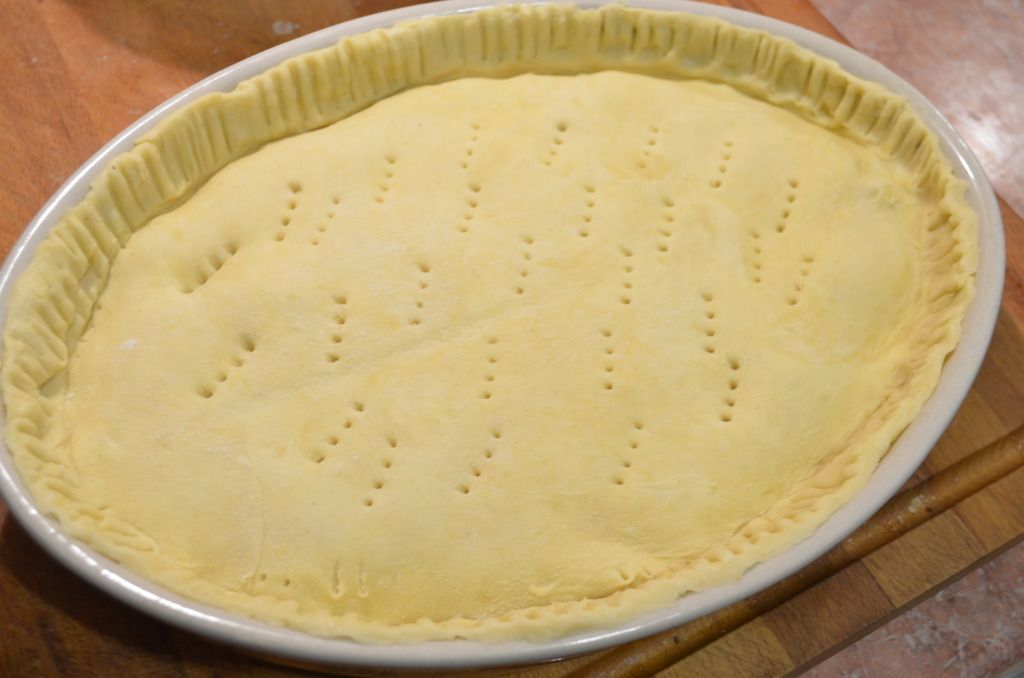 Before baking...
Ingredients (yield 5-6 servings):
2 x 10 3/4-ounce cans Condensed cream of Chicken Soup, undiluted( the recipe below)***
1 1/2 cups unseasoned, diced cooked potatoes
1 cup cooked, sliced carrots
1 cup cooked or canned peas
1/8 teaspoon nutmeg
1/2 package pie crust mix or 1 homemade pie crust (the recipe)
***Cream of Chicken Soup (equal to 1 can of bought cream of chicken soup) :
1 tablespoon flour
3 tablespoons butter
1/2 cup chicken broth
1/2 cup milk
salt
pepper
Melt butter in a saucepan and add flour. Stir until smooth and bubbly. Take off from the heat and stir in milk and chicken broth. Stir once more, continue to cook and bring to the boil. Turn the heat off. Add salt and pepper to taste.***
Heat oven to 450 degrees F (hot). Combine the first five ingredients in a 1 1/2 quart casserole. roll pastry 1/8 inch thick. Arrange loosely over top of pie; trim edges to allow 1/2 inch overhanging border. Fold edges under and press to sides of casserole with fork. cut slits in top to allow for escape of steam. Bake at 450 degrees F for 25 minutes or until browned. Makes 5 to 6 servings.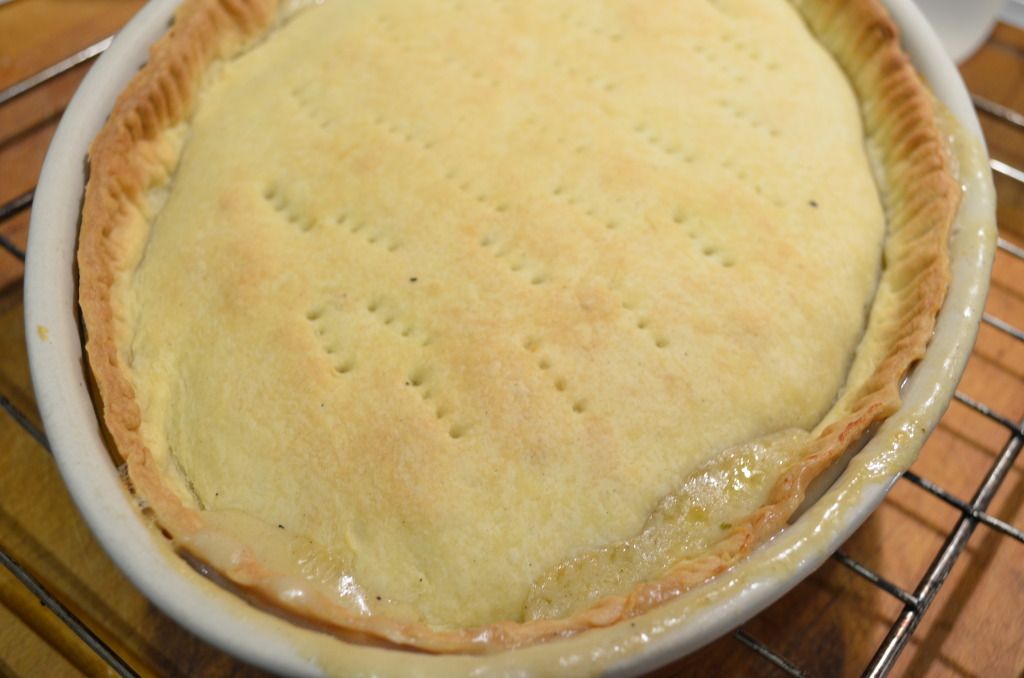 ...and after :)
xoxo,
Agnieszka