Te babeczki to wcielenie elegancji, prostoty i smaku. Są świetnym przepisem bazowym, bo zawsze można dodać coś, co się lubi- owoce, czekoladę lub użyć kremu zamiast lukru.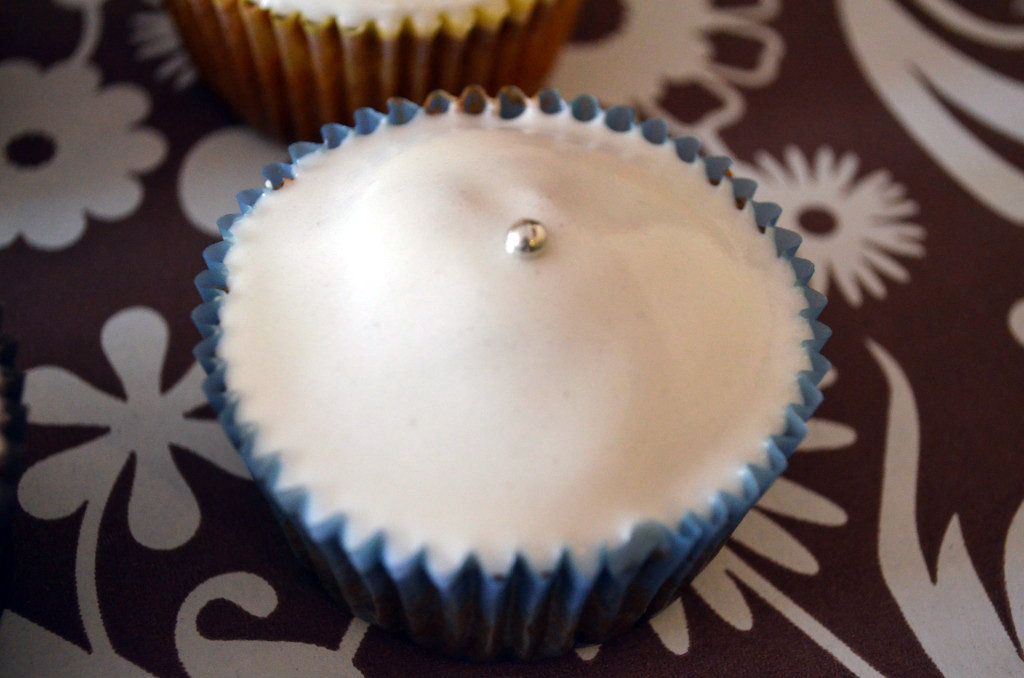 These cupcakes incaranate elegance, simplicity and taste. They are a perfect starting recipe because you can always add something that you like- different flavours, fruits, chocolate and different icing.
Przepis pochodzi ze strony http://mojewypieki.blox.pl.
Składniki na 12 babeczek:
130 g masła

pół szklanki drobnego cukru do wypieków

2 jajka

3/4 szklanki mąki pszennej

1,5 łyżeczki proszku do pieczenia

2 łyżeczki ekstraktu z wanilii

2 - 3 łyżki mleka
Wszystkie składniki powinny być w temperaturze pokojowej.
Mąkę, proszek - przesiać, odłożyć na później. W misie miksera utrzeć masło, na puszystą i jasną masę. Dodać cukier i dalej ucierać. Wbijać jajka, jedno po drugim, miksując do połączenia się składników po każdym dodaniu. Do masy maślanej dodać suche składniki i mleko, wymieszać szpatułką. Formę na muffinki wyłożyć 12 papilotkami. Ciasto rozdzielić pomiędzy papilotki, wyrównać. Piec w temperaturze 190ºC przez około 20 - 25 minut, do tzw. suchego patyczka. Wyjąć, wystudzić na kratce. 
Lukier królewski (royal icing):
2 białka

3 szklanki cukru pudru (niepełne, najlepiej zacząć od 2 szklanek i stopniowo dosypywać)

1 łyżeczka soku z cytryny
W misie miksera utrzeć białka z cukrem pudrem (nie ubijać, ucierać). Ucierać przez kilka minut do gładkości. Dodać sok z cytryny i utrzeć. Hojnie pokryć lukrem wierzch babeczek. Ozdobić cukrowymi kwiatkami.
Ingredients (yield 12 cupcakes):
130 butter
1/2 cup caster sugar
2 eggs
3/4 cup wheat flour
1 1/2 teaspoon baking powder
2 teaspoon vanilla extract
2 - 3 tablespoons milk
All ingredients should be at room temperature.
Sift flour and baking powder together, set aside. In a bowl beat butter for a light, fluffy batter. Add sugar and continue to beat. Add eggs, one at a time, mixing everything after each addition. Add dry ingredients to butter mixture and then milk, mix ingredients using a spatula. Line muffin mold with 12 paper cases.

Drop mixture into each paper case and even the surface. Bake at 19

0ºC

for about 20 - 25 minutes or until the so-called

clean wooden skewer. Take your cupcakes out of the oven, let it cool on a wire racks.
2 egg whites
3 cups icing sugar (not full cups, it's better to start off with 2 cups and gradually add more)
1 teaspoon lemon juice
I na bowl cream egg whites with icing sugar. Do it for a couple of minutes until smooth. Add lemon juice and cream. Cover cupcakes with the icing generously. Decorate with sugar flowers.