Muszę przyznać, ze jestem bardzo zaskoczona i wdzięczna za wyróżnienie przyznane mi przez
thedarksideoflight
. Nigdy nie brałam udziału w niczym podobnym i zawsze się zastanawiam, o co chodzi w tych blogowych przedsięwzięciach. Ale przejdźmy do rzeczy, zgodnie z zasadami muszę powiedziec coś o sobie, więc zaczynajmy.
I have to admit that I'm surprised and grateful for the award given to me by thedarksideoflight. I've never taken part in a blog event of that kind so I'm a bit confused what it is all about, but please, forgive me this :P So let's start with the questions about me.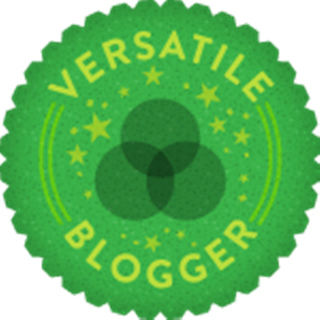 1. Nie lubię zwierząt, z wyjątkiem kotów. Nie wiem dlaczego tak mam, ponieważ w dzieciństwie miałam mnóstwo zwierząt, ale teraz mi się odmieniło. Mam chyba jakiś problem z "bakteriami", itp. Ale pracuję nad tym i myślę, że chciałabym mieć w przyszłości kotka ;) /
I don't like animals, but cats are the exception. I don't know why because I always had a lot of pets as a child, but now it's different. Maybe it's because of my slight problem with 'bacteria', etc. But I'm working on it and i think I want to have a kitty in the future ;)
2. Kocham herbatę. Kawę co prawda czasem wypiję, ale nie jest tak smaczna jak herbata. Uwielbiam miętową, zieloną i Earl Greya + jakieś mieszanki z mojego lokalnego sklepu z herbatą.
/ I love tea. I drink coffee sometimes but I truly prefer tea. I adore mint, Earl Grey and green tea +some mixed tea from my local tea shop.
3. Jestem osobą nieśmiałą, niepewną, niezdecydowaną i raczej o niskiej samoocenie. Ale staram się nad tym pracować. Mówię Wam, praca nad sobą jest najgorsza.
/ I'm a shy, indecisive, insecure person with quite low self-esteem. But I'm trying to overcome these obstacles in my life. Man, improving upon yourself is always the hardest.
4. Zasady są bardzo ważną częścią mojego życia, nie chodzi mi tu o jakieś prawa, przepisy, etc., ale bardziej o mój sposób na życie i to, co wg mnie jest właściwe. Zawsze staram się być wierna sobie i temu, w co wierzę.
/ Principles are a very important part of my life. I'm not talking about general rules or laws, etc. but rather the way I perceive life and what's right for me. I always try to be faithful to myself and to what I believe in.
5. Być może i jestem poważnym człowiekiem, ale kocham się śmiać. Dlatego uwielbiam dowcipy, stand-up, kabarety, najlepiej abstrakcyjne, o czarnych humorze i ogólnie postrzegane jako "niewłaściwe" XD
/ Maybe I am a very serious person, but I tell you one thing- I love laughing. Therefore I'm a fan of cabaret, comedy, jokes and stand-up. Particularly, I'm fond of abstraction, dark humour and everything that is considered 'inappropriate and offensive' XD
6. Kocham ponad życie wszystko, co związane ze starymi i minionymi epokami. Interesują mnie: moda, sztuka, styl życia, tradycje i obyczaje. Ostatnio wzięło mnie na epokę wiktoriańską. /
I love everything that is linked to old and bygone
eras
. I'm interested in their fashion, traditions, customs, art and lifestyle. Lately, I've been in love with Victorian era.
7. Mam fioła na punkcie winyli. Sukcesywnie powiększam moja kolekcję i mogłabym godzinami przesiadywać tylko i wyłącznie w towarzystwie mojego
gramofonu.
/
I'm crazy about vinyls. I'm growing a big collection with a success. And I can spend hours listening to my favourite 'friend'- turntable.
No, to by było na tyle. Myślę, że dowiedzieliście się o mnie czegoś ciekawego XD /
So that would be it. I hope it was interesting to know me a bit better XD
Blogi, które otrzymują moje wyróżnienie:/
Blogs that are nominated and awarded by me
*:
1.
Lucky Lucky Lavender
2.
A beautiful mess
3.
Skunkboy Creatures
4.
Drawing Dreaming
5.
Esme and the Laneway
6.
Love Elycia
*I encourage you to taking part in this award-giving and writing about yourself.
But of course, the decision is always yours :)
xoxo,
Agnieszka